What's New
Services
CELEBRATIONS
HEALTH & FITNESS
BANKS
SCHOOl CHURCHES
CHURCHES
CIVIC CENTER
STUDENTS UNION
ASSOCIATIONS
BUSINESS & INDUSTRY
POST OFFICES
RIVERS & STREAMS
COMMUNICATION & MEDIA
Resources & Articles
Last Updated

Oraifite Community USA Atlanta Georgia 2007 Convention
---

The Atlanta Georgia 2007 OCUSA Convention
The THEME for this year's Convention is:

HEALTHCARE AT ORAIFITE
OCUSA
Fourth National Convention
July 20 & 21, 2007
THE HILTON ATLANTA AIRPORT HOTEL
1031 VIRGINIA AVENUE, ALTANTA, GEORIA.
Oraifite Citizens in the U.S.A
Cordially invite you to attend our
National Convention & Banquet
Keynote Speaker - Dr. Andy Okafor
Guest Speaker - Dr. Steve Dike
The Host Chairman for the 2007 OCUSA Convention and his team has assured all Oraifite citizens far and near that all is set and ready to go for the fourth bi-annual OCUSA Convention scheduled for July 20th and 21st at Airport Hilton Hotel.

Briefing the OCUSA National executives recently on the state of his chapter preparedness, Dr. Ben Onwukaeme (Host Chapter Chairman) and Mr. Steve Nkemadu, Convention Coordinator assured all that it is truly going to be a bash of a family reunion never witnessed before.

This 4th National Convention of Oraifite indigences will feature speakers from home and here in the United States. It is a must attend for all sons and daughters of Oraifite.
Schedule of Events

Friday, July 20 at 9:00 pm - 1:00 am
Welcome and Opening Reception - Adamsville Recreation Center

Saturday, July 21 at 8:00 am
National Convention - Hilton, Atlanta Airport
404-767-9000
1 - 800 - HILTONS

Saturday, July 21 at 9:00 pm - 2:00 am
Banquet - Adamsville Recreation Center
404-505-3181
Contacts

National President:
Dr. Okey Nwokolo (405) 691-0666

National Secretary:
Mr. Vince Obim Dike (281) 875-4222

President - Host Chapter:
Dr. Ben Onwukaeme (404) 272-5038

Secretary - Host Chapter:
Mr. Ben Amaechi Okeke (404) 957-5797

Coordinator - OCUSA 2007:
Mr. Steven Nkemadu (404) 610-4597


ORAIFITE COMMUNITY USA (OCUSA)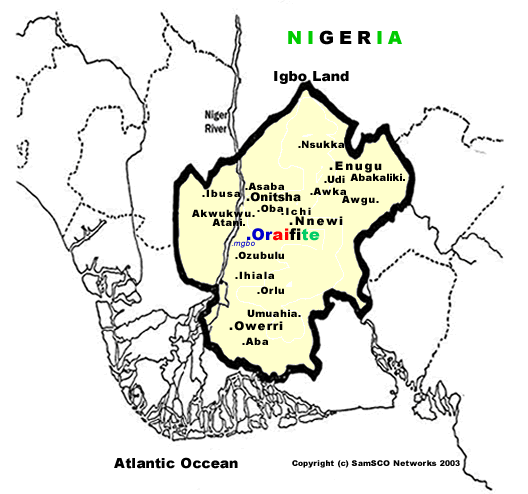 We, the Oraifite citizens in the United States, cordially invite you to attend our 4th biennial Convention and fund raising event.

The convention is completely free, however any contributions will be appreciated.

Also, businesses and individuals can advertise in our event booklet. All funds will go towards renovating the Oraifite Health Center (Ozuda) to a first class hospital.


Adamsville Recreational Center
3201 Martin Luther King Dr.
Atlanta, GA 30311
(404) 505-3138
July 21, 2007
10:00 PM - 3:00 AM
Hotel Arrangement:
The Hilton Atlanta Airport
1-800 - Hiltons / 404-767-9000
The Convention Organizing Committee has finalized arrangement with AAA 4-Diamond Awarding winning Hilton Atlanta Airport Hotel as venue for the 2007 Convention.

Hilton Atlanta Airport is conveniently located minutes from Hartsfield-Jackson Atlanta International Airport and Georgia International Convention Center.

The Hilton hotel complimentary shuttle service is provided to and from the airport which includes the Airport Marta Station, Atlanta light rail system.

For reservation and inquiry call the above numbers. Mention OCUSA to get the special Convention rates: $85.00 (Single/Double Bed). For additional information about the Hilton Hotels website at: www.hilton.com
Brochure Advertisement Form

------------- Full Page with/without Photograph $150.00

------------- Half Page with/without Photograph $50.00

Contents of the Advertisement:
All Ads must be received by June 21, 2007

----------- I have prepared my own message that I want published (attach)

---------- Please use standard OCUSA message with the following information:

a. Name
b. Company
c. Town / Village
d. Address
e. Phone #
f. E-mail / Web Address
Please make check or money order payable to: OCUSA INC. - Atlanta Chapter*

OCUSA, Inc. is a non-profit organization dedicated to promoting public health and educatio