What's New
Services
CELEBRATIONS
HEALTH & FITNESS
BANKS
SCHOOl CHURCHES
CHURCHES
CIVIC CENTER
STUDENTS UNION
ASSOCIATIONS
BUSINESS & INDUSTRY
POST OFFICES
RIVERS & STREAMS
COMMUNICATION & MEDIA
Resources & Articles
Last Updated

Iri Ji Festival or Iwaji/Ili Ji Yam Fest Igbo New Yam Festival
---

Yam Fest - Festival of Yam!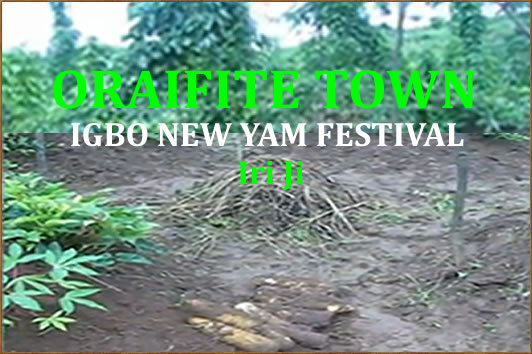 The new yam festival normally called iri-ji (eating yam) is performed on the ninth month (September) of the year. It is five weeks after the Afia-olu festival.

The Iri-Ji festival is celebrated at different times within the Igbo land, starting from August until October every year.

Ji (or Yam) is a very important food crop in Oraifite town. Evidence of this is in the cultural significance attached to the "Iri-Ji" New Yam festival. Sadly, this culture is dieing if not already dead.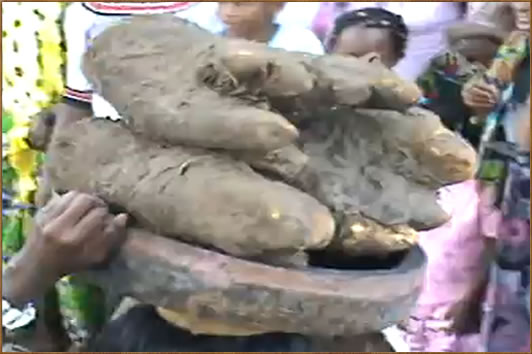 Firstly, the villages (Ibolo, Umuezopi, Isingwu, Ezumeri, Irefi and Ifite) perform family rituals of the Ufiejioku and ogwu-omumu.

The head of the family will sample the best yams and dig them out. He will use them for the family rituals (according to our ancestry) by cutting pieces of small bits and pinning them to the okwu nde ndushi and sacrificing a cook for the good welfare of his family.

Each family will carry pots and mortar to the village's shrine of ogwu omumu (due to Christianity this is no longer done today).

There they kill the cocks and hens and cook pounded yam. All the food and meat cooked there must be finished. Left over are left on the ground of the shrine.

In the evening, the ceremony continues in homes by performing rituals for the family. No visitor will partake of the food on the first day ritual and it must be pounded yam.

On the second day, the full festival takes effect and larger cooking and feasting continue for at least four days.

The major dieties of the village take their turn in the Igbo new yam festival.
Ubuluegbe's turn is on Orie ukpolo; nnekisi on Afo olu; Nkpulu oba on Nkwo olu.

The final ceremony is the yam fest umu mmuo iri-ji (festival of the yam) which is the ceremony for Edo.

On that day Igbo new yam festival, the whole Oraifite will converge at Nkwo edo market with their new yams and cocks to perform the yearly festival.

One of the important issues in the New Yam Fest ceremony is that, it is the day that all promises to one's dieties are performed.

New promises are made for protection against the coming year. Some people come with goats, cows and cocks to fulfil their promises.

However, the most important gift is Yam which one should carry at least one or two big tubers to Edo shrine.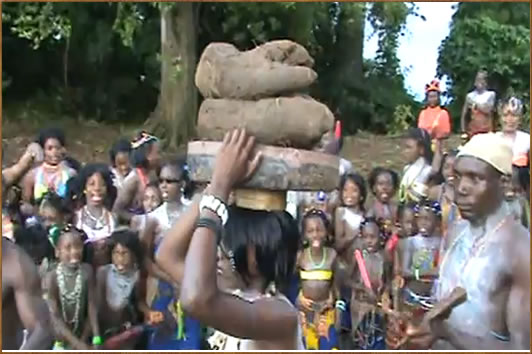 The joy that follows iri ji (or ili ji or Iwa ji) is great because it marks the end of the year's suffering.

New item are purchased for the house and new buildings put up and young men and women get married within this period.

It is a period when virgin girl and bachelors gather together, creating the opportunity for the girls to be seen by marriageable men.

Inquiries are made about the girl's behaviour before engagement and marriage follow.