What's New
Services
CELEBRATIONS
HEALTH & FITNESS
BANKS
SCHOOl CHURCHES
CHURCHES
CIVIC CENTER
STUDENTS UNION
ASSOCIATIONS
BUSINESS & INDUSTRY
POST OFFICES
RIVERS & STREAMS
COMMUNICATION & MEDIA
Resources & Articles
Last Updated

Oraifite OFALA Festival 2014
---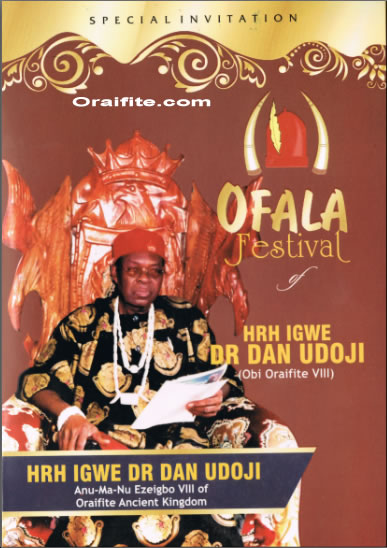 ORAIFITE OFALA Festival 2014
Sunday, 28th December 2014
YOU are Cordially Invites to...

2014 OFALA Festival of HRH IGWE Dr Dan Udoji
(Obi Oraifite VIII)
Anu-Ma-Nu Ezeigbo VII of Oraifite Ancient Kingdom
Programme Schedules:

Brief Inter-Denominational Service:
Date: Sunday, 28th December 2014
Venue: Ime-Obi Palace, Ibolo-Unodu Oraifite, Ekwusigo L. G. A, Anambra State
Time: 3.00 pm prompt

OFALA DAY:
Date: Monday 29th December 2014
Venue: Ime-Obi Palace, Ibolo-Unodu Oraifite, Ekwusigo L. G. A, Anambra State
Time: 10.00 am prompt

The Team of Ofala Planning Committee in Collaboration with the Oraifite Igwe-in-Council
Ichie (Prof.) Benjo Igwilo (Nnabuenyi Oraifite) - Mobile: 0803 564 8672

Ichie (Sir) Charles Mekowulu (Ezienweilo Oraifite) - Mobile: 0803 713 8001

Ichie (Hon.) Afam Bennett Okoli (Rapuluchukwu Oraifite) - Mobile: 0708 206 7491

Ichie (Barr.) Eddy Nnaji (Ezeugwumba Oraifite) - Mobile: 0803 320 9226

Ichie Dan Onwughalu (Ikukuoma Oraifite) - Mobile: 0803 757 5229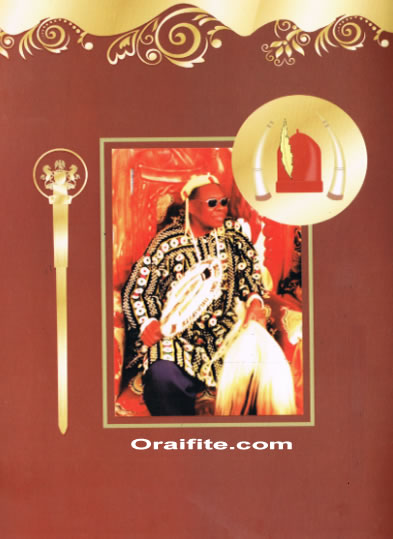 Photoclips Pictures of the Oraifite Ofala festival 2014
Below you will see Obi Ozubulu in his royal dance steps greeting the palace Ichies at occasion.

Also you will see Chief Benard Aghaeze of Bentraco Limit, Chief Andrew Nzoku Odukwe of ANOSE Investment Limited and Engr Ernest Nduka paying tributes to Obi Oraifite.

Sam Odiaka would personally like to take this opportunity to say special thanks to SamSCO Networks Associates for taken these pictures.