Palm Oil | Mmanu - The Palm Fruit
Igbu Akwu - Igbo Land Most Important Crop - Ofe akwu
---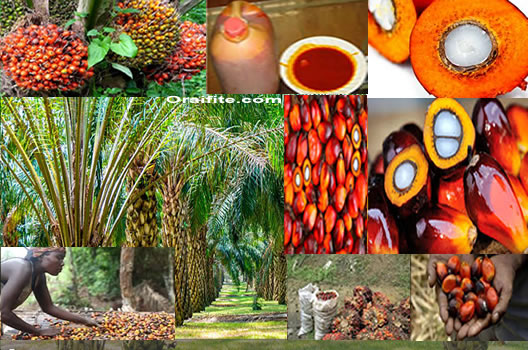 Palm-Oil (Akwu) - The Palm Fruit - Igbo Land Most Important Crop
The palm-oil - The Palm Fruit crop is very important in Igbo land Oraifite - especially "isi ofe akwu".

Have you ever seen a man (and now a woman) who is going to cut down palm heads? - "Igbu Akwu"

He always carries a large knife called a matchet and one or two ropes. These things are important.

He uses the ropes to help him climb the tree, and the matchet to cut the down the palm heads.

If he has one rope, he puts it round the trunk of the tree and ties it behind his waist, so that the rope makes a circle.

Both the climber and the trunk of the palm tree are inside the circle. The climber holds the piece of the rope which he has tied round his waist and lifts the other piece as high as possible onthe trunk.

Then he climbs up to the rope, lifts it higher up the trunk, climbs up to it again, and so on till he reaches the top of the tree.

There the rope round his waist holds him while he cuts down the palm heads. The rope has to be very strong, and climbers look after their ropes carefully.

When they climb a tree, they are alone. There is no one to help them. So their ropes must be as safe as possible.

Some men climb with two ropes instead of one. They do not put a rope round their waist, but tie one round the tree and high up on their right leg, and a shorter one round the tree and and low down on their left leg.

Both these ropes go round the trunk of the tree, and then he bends down and brings up the rope round his right leg as high as possible on the trunk of the tree, and then he bends down and brings up the rope round his left leg, and so on till he reaches th etop of the tree.

While theyare climbing,most men hold their matchets between their shoulder and their head.

When a climber reaches the top of a tree, he cuts down the ripe palm heads with his matchet. He knows the ripe heads because the nuts (ogbe akwu) are red.

But he has to be careful. Before he lets a palm head fall to the ground, he must cut a small branch and drop it first. This is important. Palm heads are heavy.

If they land on top of someone, they can kill him. So the man who is cutting drops a small branch to frighten away any people, or chickens, or other animals who are under the tree.

Then he cuts down the palm head.

As soon as palm head lands on the ground, the climber's part of the job is finish. His wife has to pick upthe head and carry it home.

A few men help their wives with this, and they do it together, but most men let their wives do the job alone.

At home, the women cut little bunches of ripe nuts from the palm heads and keep them under fresh leaves and branches for some time.

They have to wait till they can pick the nuts easily from the bunches. When they have done this, the next part of the job begins.

The nut is the most important part of the palm head. It contains the kernel and the oil.

When the nuts are ready, women put them into mortars and pound them into pulp. This is hard work.

You have all seen your mothers, or someone else using a mortar. They pound and pound at it.

When women are breaking down palm nuts, they have to pound for about half an hour before the nuts are ready.

At the end of that time, the mortar conatins a thick, red pulp made of oil and pounded nuts.

The women pick up some of the pulp, hold it over a tin, or pot, and squeeze it in their hands.

As they squeeze, oil pours into the tin. When they have squeezed all the oil out of one lot of pulp, they pick up some more and squeeze the oil out of it, and so on til they have finished the job.

When the oil is clean, the women use it for cooking. Palm-oil is important because it is the butter, or cooking fat, of Igbo Land.

It goes into stew, into soup, and into many other things ant people eat. Some people make it into soap, too,and use it for washing.

If they have too much oil for themselves, they take some to the market and sell it.

They get money for the oil and with that money they can buy many things- clothes, shoes, food, and so on.

You can see that palm-oil is very important in Nigeria and Igbo land.

And do not forget the kernels. After the women have squeezed all the oil out of the pulp, they do not throw the nuts away.

Instead they dry them in the sun, then pick out the kernels and sell them.

All this is the old way of getting oil from palm nuts. Today, some women still pound the nuts in their mortars and squeeze out the oil by hand.

Others let big palm-oil mills do the work instead. These mills make more oil, and they make it better and cleaner than women can do by hand.

But it is the same oil, and palm-oil is still the most important crop in Igbo Land ORAIFITE.


Is Palm Oil "Mmanu" Good for You?
Is palm oil "Mmanu" Good for You? Blood pressure, Palm oil - Is palm oil actually good for you?

Palm Oil appears in many different products on the high street today - is this a good thing?

Do you know that "The Palm-Oil Industry" uses palm fruit/ palm-oil to make:

Baking Fat
Candless and Lamp Oil
Detergents
Ice cream
Margarine and Cooking Fat
Polish
Skin Pomade
Soap
Soap Flakes
Soup and many more...
Blood pressure, Palm oil. How low should you go when treating blood pressure?

Great Igbo man - Chinua Achebe once wrote: "Proverbs are the palm oil with which words are eaten."

Palm oil - it seems to be popping up in ingredient lists on all sorts of food labels these days but when it comes to health is it a good fat or a bad fat?

Blood pressure readings are made up of two numbers - like 120/80.

The lower figure - 80 - is the baseline pressure in your circulation measured in millimetres of mercury.

Forget the units - they don't matter - just concentrate on the numbers.

The upper figure - 120 - is the peak in pressure that occurs with each beat of the heart, felt as the pulse.

Your blood pressure is said to be raised if readings are consistently 140/90 or more in a clinic setting or a bit lower at 135/85 or more if you check yours at home where you are more likely to be relaxed.

If you have high blood pressure and are on medication then your doctor/nurse will tweak what you take to try and get your readings below 140/90 or below 150/90 if you are elderly.

But new research suggests that these thresholds are way too high and that we should be far more aggressive - aiming for a top number of 120 rather than 140 - a move that could mean millions more people in the UK taking extra medication.

Why is there so much palm oil in everything these days when articles I have read suggest that it's just not that good for you?

So palm oil is an edible vegetable oil, produced from trees and plants initially in Oraifite in Anambra State Igboland Nigeria, Central America, South America and also in the South West of Africa.

Over the past sort of decades now in fact the majority of palm oil's produced in Indonesia and Malaysia.

Palm oil can be used for a real variety of things, it can be used in the production and in consumption of foods themselves but it can also be used in washing powders, additionally to that as a biofuel, so it really has a real variety of roles.

What about its chemical structure - where does it sit on the spectrum of saturated versus unsaturated?

Well that's a really important question because in the last year or so we've had some new evidence with regards to fats and what we do know now for sure is that all fats aren't made equal.

So we have trans fats which are bad, saturated fats which seem less bad than we thought and then some fats which are polyunsaturated and monounsaturated that are perhaps actually good for you.

These are the vegetable oils and olive oil type - end of the spectrum.

Absolutely. Palm oil in that has more saturated fats than most other oils.

The largest saturated fat is a saturated fat called palmitic acid.

It also has some monounsaturated and polyunsaturated fats and these are the fats as I say that we see as good.


The Palm Oil Industry
Igbo people in Oraifite, Anambra State (Eastern Nigeria) have used palm oil (for example, isi ofe akwu) for hundreds of years.

We have read (above) how men climb the trees and cut down the palm heads (the palm fruit), while women carry the heads to get the oil.

Igbo people use palm trees for other things too. Sometimes they eat palm nuts or with gari and water (mixed) to quench hunger after coming back from farm ("olu ubo") or possibly from school or after a long distance journey.

Also they make fences with palm leaves, or feed them to their goats. If they cut down a whole tree, the wood from the trunk can help to build a bridge, or a house.

So palm trees are very important tous. Long ago the treesused to grow wild. Igbo men used to look for them in the forest and the trees belonged to anyone who found them.

Sometimes trees grew near a village, or inside a compound. They belonged to the people in the village, or compound.

A few people used to plant seeds and grow palm trees, which then belonged to them. But most trees grew wild, and the crop each year belonged to anyone who gathered it.

Two hundred years ago, this was all right. The palm-oil industry was important in Oraifite Igboland town in Anambra State, Estern Nigeria, but only for the peoplewho lived there.

They kept the whole crop for themselves. They cooked withthe oil. Also they used to make fires with palm hads and mix some oil with the ashes to make soap.

Some people still do this to day in 2021. Perhaps you have seen them mixing palm-oil with ashes.

Perhaps you have used the soap. It is black in colour and not very good, but long ago people had nothing better.

More than one hundred and fifty years ago (say around 1816) things began to change.

Before that, when the Europeans came to Eastern Nigeria, they were looking for slaves. They sailed with these slaves in ships across the sea and sold them in other countries like animals.

But the slaves trade was so bad that people stopped it. After that the European traders still had their ships. They looked for something else to carry in them.

One of the things they found in Eastern Nigeria was palm-oil. Industries in United Kingdom (UK) England, and other countries across the sea,wanted as much oil as they could get.

They used palm-oil tomake soap. They did not mix the oil with ashes, but made better soap by mixing it with other things.

Also they sometimes put palm-oil in their machines to make them work better. Europeans do not do this now, because they have found better oils for machines, but some people here is Eastern Nigeria still do it.

As time passed, more and more Europeans sailed their ships to Eastern Nigeria. They all wanted palm-oil. Soon the wild trees in the forest and the few trees in the compounds were not enough.

Igbo men began to plant more and more trees, and they looked after them like any other crop. When the palm-oil was ready each year, they sold most of it to traders, and kept only enough for themselves.

The traders took the oil to ports where the European ships were waiting. Today, Port Harcourt, River State is the biggest port in this country.

It can hold very large ships. But for a long time the most important port was Bonny.

Slave ships used to sail there long ago, and when they changed to carrying palm-oil instead, they still came to the same port.

Today palm-oil is one of the most important crop in Eastern Nigeria. Europeans and other people pay a lots of money every year for it.

You can see that palm-oil is important. So we grow as many palm trees as we can. Also Igbo men are always trying to grow better palm trees which will give more nuts and begin to give them younger than the old trees did.

They try to grow trees whose nuts contain more oil too. In all these ways they try to get a bigger crop of palm nuts.

When the nuts were ready, women used to squeeze out the oil by hand.Now most people take their whole crop to a mill, where machines do the work.

These machines squeeze the pulp harder and make the oil cleaner than anyone can do by hand. Remember, we must have as much palm-oil as possible.

The farmers plant good seeds to grow better trees and better crops. Mills pound and squeeze the nuts to give more oil.

Then more ships come and take this palm-oil across the sea to more and more ports. And everyone gets more money.

The palm-oil industry grows bigger every year and is important to all of us.

It is funny to think that the whole thing still begins when a man picks up his rope and matchet and goes out to climb a palm tree.
The Palm Oil Business