What's New
Services
CELEBRATIONS
HEALTH & FITNESS
BANKS
SCHOOl CHURCHES
CHURCHES
CIVIC CENTER
STUDENTS UNION
ASSOCIATIONS
BUSINESS & INDUSTRY
POST OFFICES
RIVERS & STREAMS
COMMUNICATION & MEDIA
Resources & Articles
Last Updated

Nkwo Edo Market
Of Oraifite
---

Below are pictures of Nkwo Edo market taken during April 2004. Please note: We're still doing some research about Nkwo Edo Market of Oraifite.


Nkwo Edo Market at Irefi Oraifite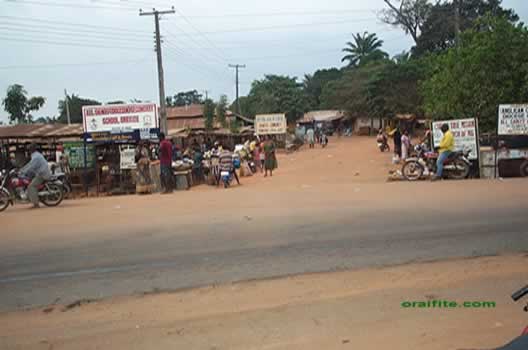 Okada waiting for customers at Nkwo Edo Market Irefi Oraifite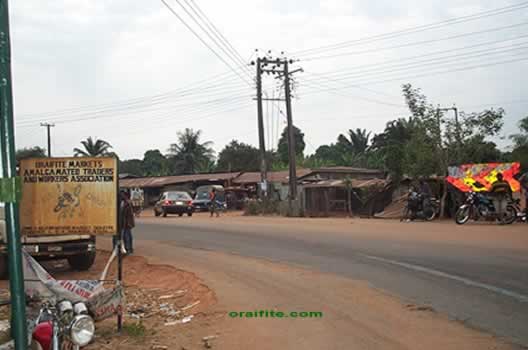 There are two major markets at Oraifite - The Nkwo-edo and Nkwo-ozulogue. The Nkwo Ozuluogu is situated at Ibolo and it is only on Nkwo day that people go there to trade. This means, it is on at every four days.

Many people from all over the neighbouring towns attend this market. The Atani, Odoekpe and the river line people, Olu attend this market. It still maintains the link between Oraifite and the Aboh people.

They trade mostly on fish and yams.

The Nkwo edo is fuller on Orieh day even though that people who trade at Nkwo Ozuluogu in the morning on nkwo day may likely go to Nkwo Edo for the rest of the day's business.

On the other two market days of the week - Afor and Eke, the sub markets in the villages are operational.

The most prominent among them is the Ozuda Ezumeri. Most sub markets serve the villages on minor trading for local use, while the major markets yield a lot of revenue.

Apart from farm work, fishing and tapping wine, there is another group that generate revenue in Oraifite, they are the medicine men or herbalists and the artists.

The occupation of medicine men, know as dibia is the major work of Ezumeri and Ifite.

They do not display their goods in the market, rather people go to them to seek for cure of aliments whether physical or spiritual.

There are two groups of these herbalists, the dibia afa and the dibia afifia (oracle player and pure harbalist).

The dibia afa plays oracle to tell people their fortunes and now to curb evil spirits.

Whilst, the dibia afifia cures with herbs, removes poisons, cures snake bites or scorpion bites, and helps to protects evil spirits.

One can be dibia afa as well as dibia afifia but sometimes, people fear that they play some tricks by not really telling the truth of what the spirits dictated.

It is better to do it at different levels. These people generate fund through their practices.

People from neighbouring towns visit them. The third group of these medicine people are the ndi-otu, known as Mamy Water Messengers.

They perform both at their houses and the nearby streams. At Irefi village, there is a big lake called Omelu nwa ogbuagu. It is reputed to be vested with powerful water spirits.

Almost all streams in Oraifite are believed to be vested with water spirits and their placation by the ndi-otu medicine men and women brings children, long life and wealth to the inhabitants.