Masks And Masquerades of Oraifite Igbo Land
---

Masks and Masquerades known in Igbo language as "Mmanwu na Mmuo"

Mmuo are the spirits of the dead persons of a town. These spirits are classified into good &amp evil ones.

The good spirits are placed in a hirarchy as follows: the spirit of ALL Ozo titled men, which are regarded as the Collective Royal Ancestors called Ndi Ndushi, these are great ancestors.

The spirits of ALL DEAD untitled fathers with extant lineages, called Ndi-Ichie these are also called small ancestors; the spirits of some dead married daughter - Umu Ada.


Here are pictures of a Masks & Dancers During Afia-olu Festival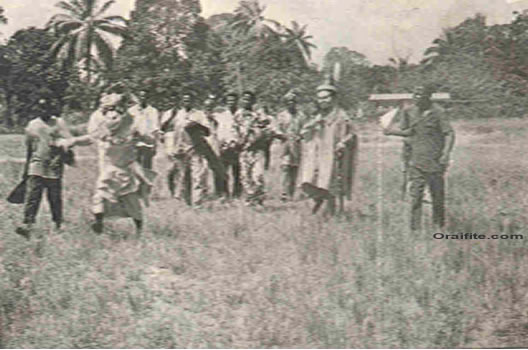 AFIA OLU FESTIVAL
( Celebration of the End of Farm Work )
Afia Olu is one of the festivals in Oraifite. It is also known as "Ufie jioku or Jigoku festival". At the end of August month (Eke Day Saturday 25th August 2012), comes the afia-olu festival.

It is done seven weeks after Otite. Afia-olu festival is to celebrate the end of farm work.

Formerly, it was celebrated in villages (Ibolo, Umuezopi, Isingwu, Ezumeri, Irefi and Ifite) and it helped people to enjoy the ceremony by attending the invitations from friends, in-laws and half cousins.

Afia olu is one of the biggest festivals because it is during afia-olu that the new dances and masquarades are performed.

Most contributions and savings are geared towards afia-olu. There are a lot of cleaning and scrubbing of walls, for the festival.

It usually takes off on Eke day (think of market day - Orie, Afor, Nkwo, Eke). The Orie day is usually the day for all masquerades, mmanuwu ilo, both old and new to parade the village square.

People come out in their best to watch the masks and dancers. The festival is filled with eatings, drinkings and meriments.
In Oraifite Igbo land, Good known as Mma and Evil known as Njo as they are generated by Alusi who direct them towards men.

Evil men are visited by the evils generated by alusi and good men are visited by the good generated by alusi.

Good and Evil visit a compound because the compound is made up of GOOD and BAD Persons.

Since an adult individuals is a mixture of good and evil, the life of a person fluctuates between success and failure, happiness and sorrow, richness and poverty, health and sickness, impotence and fecundity.
Here is a picture of Mamiwota Mask from Ibolo.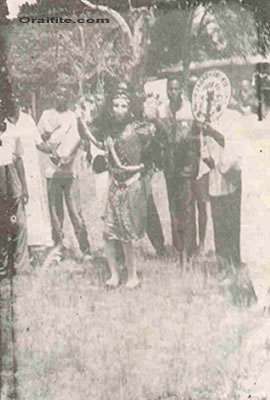 It is the duty of the head of a family (or lineage) to see that the memebers of his compound and lineage live a moral life as defined by traditions.

He does thi sby seeing that all the rules of taboos are kept and that all abomination are cleansed, and that relationships between men and the various supernatural forces and beings are kept.

In doing this he has to solicit the aid of his immediate ancestors and the ancestors of his minimal, major and maximal lineages, for the ancestors control the volume of good and evil that flows into the compound of their descendants.

The head of the family ust therefore be in constant communication with the ancestors.

He must give them food always, know in Igbo as Inye Nni, and he must offer blood and non-blood sacrifices (known as Ilo Mmuo) to them. Because by doing so they are encouraged to perform their protection functions in the invisible world.

Every structurally important ancestor has an alter called Iru Mmuo situated n a temple called Ozi Obi.

On the altar are wooden carved Ikenga, Umu Oku and Ofo which are symbolic vehicles for conveying offerings to the various ancestors.
It is with Ofo that the head of the lineage approaches and communicates with the ancestors. Also with Ofo, every word he speaks is truth else he will die.

All good things like children wealth and good health are through the directives of the GOOD SPIRITS. All accidents, drowning, suicide, deaths during child-birth, and murder are caused by EVIL SPIRITS.
Here are pictures of a Ayaka Mask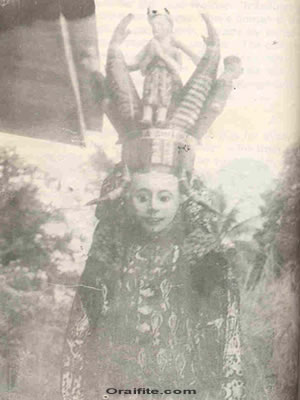 The Ogbanje Spirits are the spirits of children who die shortly after their birth or during child-hood.

Their spirits never go to their spirit land, they remain in this world and revisit the womb of their mother to be born again and then die prematurely.

If something ritually is not done to stop them from dying, they will die and be born again.

Oraifite people have elaborate rituals which they believe, if properly done, will put these bad spirits in bondage and frustrate their activities.

Thus the Akalaogoli or Ofogoli may be ritually tied - Ike Ogbon'uke or Ikpummuo.

The ekwensu ritually shot dead and buried, and the Ogbanje ritually prevented from dying or form being conceived.

The Dibia aja, the traditional medicine man specialized in warding off these bad spirits by special types of sacrifice call aja, is consulted when these spirits become active.
Here are pictures of a Ntuebi from Awo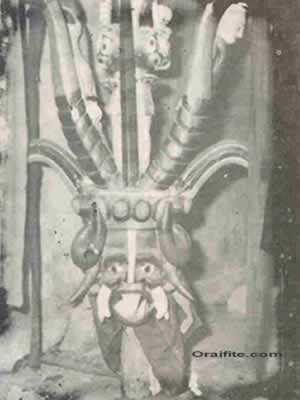 The Igbo people feature most in mask making or carving where they express their way of life in morals and entertainment.

There are many examples of cubism or something very striking illustrations of the breaking up of surfaces into triangular and lozenge shaped facets, in order to catch the light as they move in the dance.

Infact, this version of cubism seems more purposeful in this mobile sculpture than in the modern painting.

The headrest of maiden spirit, Agbogho Mmuo, is of this kind, though its cubism is some what done to show beauty.
Here is a picture of Mmuo Umu Dibia from Ibolo.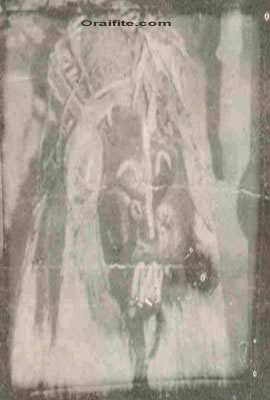 Masks, mmuo, are regarded by Oraifite as taboos and are secret institution. Their functions in society warrent that women will never wear masks, and they should not watch all types of masks especially the ancestors masks.

Also, the uninitiated and children are classified as women in the society - Ogbodu.

Everybody of ten years old and above must undergo the initiation ceremony - Ima mmuo, so that he could participate in the age grade system of the society.

It needs pointing out that the initiation into ancestors masks, Agbo oke eze and Ayaka or Otu ube, is different from the other mask initiation.

Before one enters intosuch initiation,one must have come to a certain age of adult-hood. Furthermore, the initiation into Ayaka and Otu ube masquerade is stronger than other initiations.
Making Of Masks
The whole life is associated with connections with a multitude of spirits.

The making of masks is involved with rituals of spirits, who are to be consulted at the juncture of every decision and at almost every action.
Here are pictures of a Agba Oke Eze Okpi of Eziumueri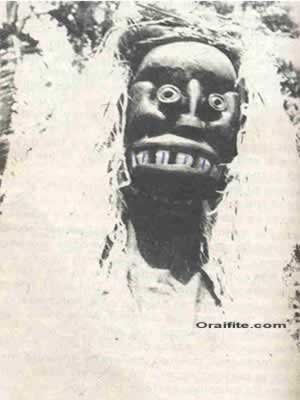 To live circumspectly doing the right thing in the right place and thereby evading the spirit and neighbour's wrath, requires a profound knowledge of restriction and taboo.
We're still doing some research about Masks and Masquerades of Oraifite Igbo land.

In the meantime please help us! "Every time you buy something Online via our link, you would make us some money"

Please click here to visit our shopping store market and see what we have so far - thank you!