Mask Masquerade#2 of Igbo Land
---

A POPULAR MASQUERADE I HAVE WITNESSED
Masquerade is mask worn in disguise in merry making activities.

In Oraifite there are different types of masquerades depending on customs and traditions of the locality (area) village. In my area (town) we have many types of masquerades, such as: "Ebu - ebu", "Mmanwu", "Okonko" and "Oji-onu".
Here are picture of Women Dancing Oja Music.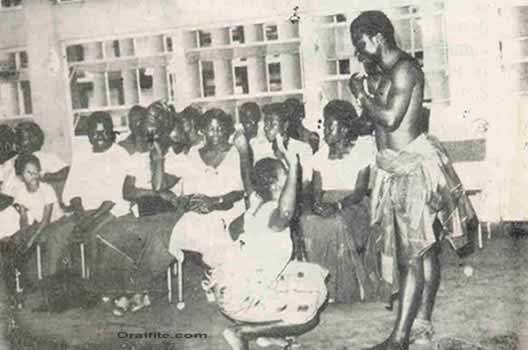 There are still very many others, which I need not mention. Of all these, "Ebu-ebu" interests me most.

It comes out not always but during festivals, funeral ceremonies, as well as on the Christmas, Independence Anniversary Celebration Days and other Christian Ceremonies.

Last Christmas, I witnessed the masquerade in a market square in my town. People gathered and were watching the dances.

In the midst of the music singled out a sweet native air, which was called the "Ebu-ebu" music. I moved to that direction. There I saw eight elderly men, six of them were beating drums, metal wooden gongs.
Here are picture of Ufie gong group. The Ufie gongs can only be played on the death of Ozo titled man or during festivals for the deities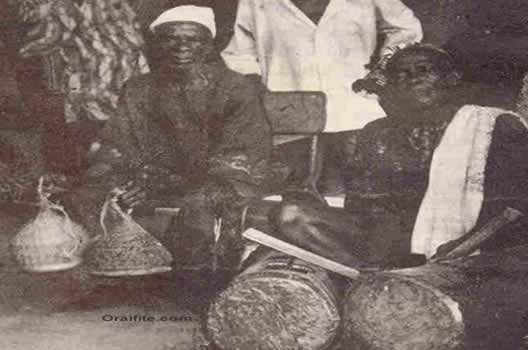 One of them tied palm frond around his forehead and was carrying a bag made of raffia. The other was blowing a wooden flute.

The combined sounds of these instruments produced sweet native airs (music). The music went on for sometimes before the coming out of the masquerade.
Here is a picture of a man blowing/playing Oja music with Wooden Flute.

Oraifite is reputed for playing oja music and formerly every male adult must have one as women have ichakilikpo.

There are grades of ọja, ọja okpu, ọja otosi, ọja ojigbongbo. Also, Oja is used ordinarily to provoke emotion during gatherings and ceremonies; particularly in Izu Okika dance by men.

Used for the dance of Mpete or Unyaka which is women's dance which Agbogho mmuo mimics in her dance.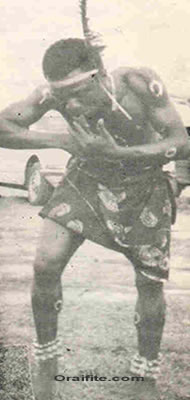 The masquerade was lead by the man who tied palm-frond around his forehead. The appearance of the masquerade frightened the people and they ran back.

I tried as much as I could to see that I was standing on a position where nobody would obstruct my view. I watched with interest.

The Masquerade was a man wearing a pair of trousers and shirt sewn in different pattern and style.

The head was covered with a decorated carved painted wood. Around the waist was a tied painted fibre from raffia palms.

Around the wrist, ankle and knee joints were tied some locally made small bells.
Here are pictures of a Police (comic Mask) from Umuddisi-Irefi and Agbogho Mmuo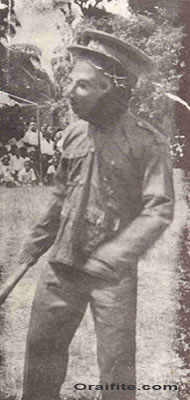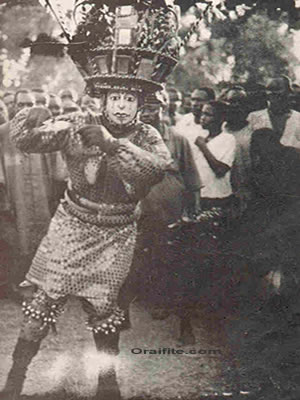 These made the dancing of the masquerade very interesting. It had a fan made of palm fronds in one hand and a metal painted staff. Around the staff were small bells.

It danced very well, guided by the sounds of the flute. The masquerade was not pursuing anybody and people watched with interest.

As the dancing was going on people continued throwing money at the masquerade. It was the duty of the man with raffia bag to be collecting the money.
After some hours of dancing, the men went in with the masquerade. Here everything ended and everyone went away.

The day was very interesting because of the masquerade, which kept dancing, and entertaining people.
Here is a picture of Olichalu Oku from Isingwu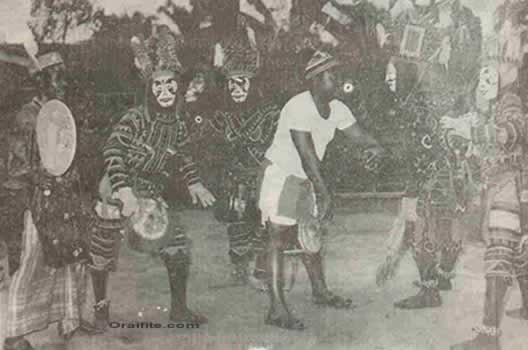 We're still doing some research about Masks and Masquerades of Oraifite Igbo land.

In the meantime please help us! "Every time you buy something Online via our link, you would make us some money" Please click here to visit our shopping store market and see what we have so far - thank you!